Edin Dzeko has long been linked with a move to Serie A champions Inter Milan — but Jose Mourinho's impending arrival in Rome could change everything.
A row with outgoing boss Paulo Fonseca in January threatened to spell the end of the striker's time in the Italian capital and he was linked with the Italian champions again as recently as last month.
With Dzeko's current employers set to face Antonio Conte's men at the San Siro tonight, in a match you can watch for FREE on the LiveScore app, we consider how life might be different for the Bosnian forward under the Special One.
Roman resurrection?
There is no guarantee Mourinho will want to keep Dzeko at the Stadio Olimpico.
Roma's new boss could choose to sell the former Manchester City striker, who is now 35 and has only managed seven goals in Serie A this season.
But he is also sure to value Dzeko's vast experience. Even in his mid-30s, there are few strikers as reliable and consistent in Italy.
Mourinho's method
Mourinho, during his long and illustrious career, has tended to prefer a focal point in attack.
Harry Kane was the main man at Tottenham, while Zlatan Ibrahimovic and Diego Costa both thrived under the Portuguese.
Dzeko is a little older now but he fits the mould of a Mourinho striker almost perfectly — he is tall, physical and clinical.
The former Spurs boss is reportedly an admirer of Dzeko, who joined Roma in 2015 after a successful five years in England with City.
He has since gone on to score more than 100 times in all competitions for the Giallorossi and finished as Serie A's top scorer in 2016-17 with 29 goals.
It is no surprise that Mourinho is a fan.
'Player of the season'
Back in 2014, when Mourinho was in charge at Chelsea, he even went as far as to publicly praise Dzeko.
He said: "My player of the year would always be from the champions. I would say a City player and I would choose Dzeko.
"He was the third striker at the beginning of the season and when the team needed him, in crucial moments, he made the difference.
"He has 16 goals. Sixteen for the third striker is something spectacular. He's not just a goalscorer. He assists, he plays."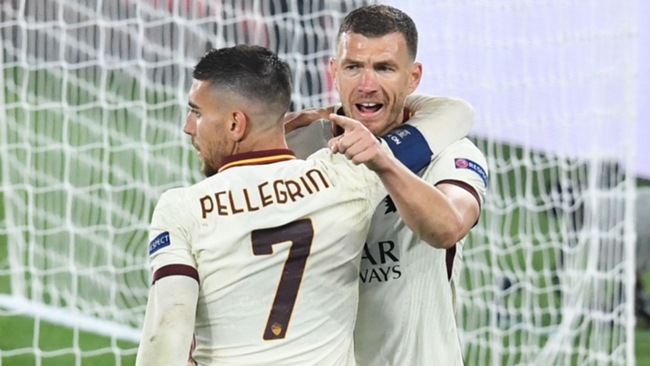 Like a fine wine
It must be remembered that Dzeko was in his late 20s and at the peak of his powers when Mourinho made those comments.
But he was never an especially quick or athletic player and his perceptiveness in front of goal only seems to have increased with age.
With all of this in mind, Mourinho may be tempted to keep Dzeko around, even if he does not start as regularly as he once did.
A useful option
Dzeko has a year remaining on his contract with Roma and effectively guarantees a double-figure goal haul each season if played regularly.
His game time has been reduced significantly in 2020-21 but he has still managed to score 13 times in all competitions.
Few strikers are so dependable and the task of replacing Dzeko might not be as easy as some expect.
Dzeko is ageing and approaching the twilight years of his career but he could, in the short-term at least, prove very useful to Mourinho.
Source: Livescore