There is never a middle ground when it comes to Liverpool's Trent Alexander-Arnold.
The right-back, 22, has come under increasing scrutiny since his unceremonious England dumping and sweeping conclusions are now made every time he pulls on a Reds shirt.
There was a scramble by pundits and fans alike to offer an explanation after his Three Lions omission — with the general consensus being that Alexander-Arnold is an unreliable defender having a tough campaign.
But just how true is that? Ahead of Liverpool's showdown with Manchester United, we take a closer look at his situation.
Alexander-Arnold is a victim of his own success.
After redefining the right-back role since his emergence, there is an eagerness to point out any weaknesses as opposed to concentrating on his many strengths.
Alexander-Arnold is expected to be Liverpool's creative hub as well as a defensive juggernaut. If he only excels in one of those areas, it is used as ammunition against him.
For example, his return of five Premier League assists this season is billed as evidence of a poor campaign.
That figure represents a dramatic decline from the 13 he managed last season and the 12 he racked up in 2018-19.
Yet when looking at expected assists (xA), his 0.20 per 90 this season is not that far off his 0.25 average across the previous two campaigns.
It is not Alexander-Arnold's fault his team-mates are not converting chances with the same regularity as before.
The loss of Van Dijk
It was expected that the season-ending injury sustained by Virgil van Dijk in the Merseyside derby would impact the Reds in defence.
However, without their Dutch colossus, Liverpool have also suffered in the final third.
During the 2018-19 and 2019-20 campaigns, set-play expected assists accounted for 28% of Alexander-Arnold's total. That figure stands at only 0.20 this year.
Without the threat of their No4 in the opposition area, Alexander-Arnold lacks a player capable of making the most of his set-piece deliveries.
Other priorities
With all three of Liverpool's' senior centre-backs ruled out for the season, it is no surprise the 12-cap England international has had to do more defending than ever before.
Alexander-Arnold is making more interceptions and recovering the ball more times per 90 minutes than previous campaigns.
When he is doing that, he struggles to influence things in the attacking third — he cannot be in two places at once.
For the good of the team, Liverpool's No66 is having to sacrifice what he does offensively to aid them defensively.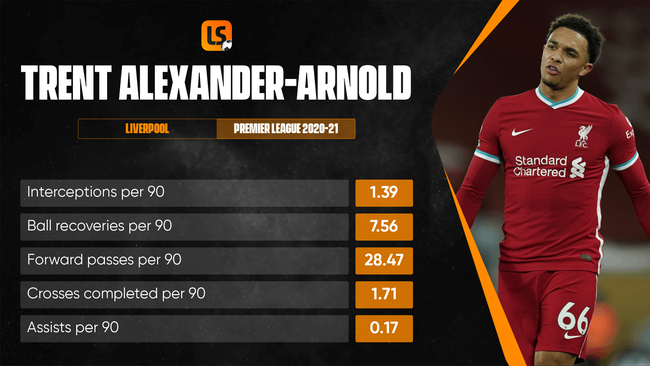 High risk, high reward
Whenever Liverpool lose, there always seems to be a dissection of what went wrong.
More than once this season, Alexander-Arnold has been ridiculed for losing possession a record number of times in a match.
What is usually overlooked is that his game is built on getting the ball forward and attempting passes others would not even entertain.
When he puts crosses into the area, it is not always to find a team-mate — rather to create counter-pressing situations for Liverpool.
It only takes one pass connecting with a striker for it all to be worthwhile.
A season of transition
Due to Liverpool's debilitating injury list, Jurgen Klopp has had to subtly change the way his side play.
Without Van Dijk's raking cross-field passes from deep, Fabinho's incisive balls from the middle third to the final third or Henderson's off-the-ball runs to support Alexander-Arnold, Klopp's side have had to completely adapt.
It is why the right-back is averaging more passes than ever before but attempting fewer long passes and crosses.
He is having to be safer in possession but just as creative while the reigning champions cope with their injury issues.
Next season, it will be different — for Liverpool and Alexander-Arnold.