Manchester United paid Juventus £89million for Paul Pogba in 2016 — and he is finally looking like the player the Red Devils thought they were signing.
The Frenchman, who made a handful of appearances for the club before joining Juve in 2012, has managed a goal and four assists in his last seven appearances.
And he was particularly impressive in the first leg of United's Europa League semi-final victory over Roma last week.
As Pogba, 28, gets set to face the Giallorossi again tonight with Ole Gunnar Solskjaer's men leading 6-2, we examine what has changed for a player whose form has proved so volatile since his return to Old Trafford.
A new role
Firstly, it seems Pogba now has a settled position — regularly lining up on the left of United's front four.
He has occasionally played in a more typical central midfield role this season but his best work has been done out wide, with more creative licence and less defensive responsibility.
With Scott McTominay and Fred providing security and solidity behind him, Pogba is unburdened and able to flourish.
Playing his natural game
That move has helped bring out Pogba's natural game.
His average of 2.27 take-ons per 90 minutes is among the highest in England's top flight in 2020-21, while he is also in the division's top 20 for passes completed into the final third per 90 (24.13).
Therefore, it is no surprise the assists have started to flow.
Pogba's talent has never been in doubt and a more advanced role always seemed like a sensible solution to his struggles.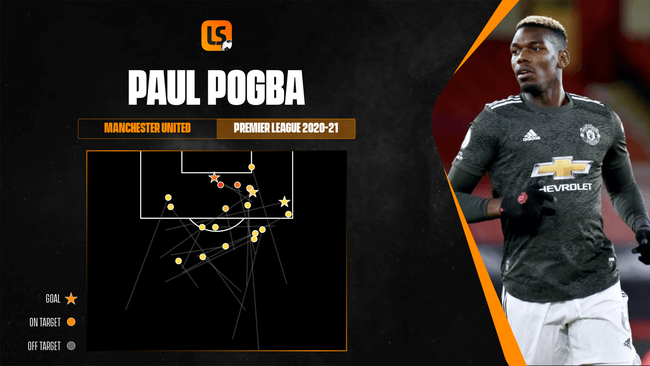 Bruno boost
Another cause for his significant improvement is the arrival and influence of Bruno Fernandes, who continues to score and assist for the Red Devils with remarkable consistency.
The Portuguese has made the No10 role his own, with 16 goals and 11 assists to his name in the Premier League this season.
Pogba was once expected to post those kinds of numbers but now there is no pressure to do so.
United are in excellent shape and the France international is no longer the man asked to single-handedly fix things.
To renew or not to renew
The question now is whether or not United will offer Pogba a new contract before his current deal expires next year.
Asked about the midfielder last weekend, Solskjaer said: "I have always said with Paul that I enjoy managing him, I enjoy coaching him, I enjoy talking to him and I also enjoy challenging him because he is a winner.
"He wants to be better and that's why he listens. You can see he's enjoying himself here as well."
At the moment, Pogba is providing the solution to a problem position and, in doing so, playing the best football of his second spell at Old Trafford.
More to prove
That might change if United sign a new winger, with continued reports linking Borussia Dortmund's Jadon Sancho and Bayern Munich's Kingsley Coman to Old Trafford.
In that scenario, Pogba's place in the starting XI may become an issue again.
The man himself has also admitted he has more work to do.
Pogba was made aware that United's points-per-game tally without him (2.2) is better than with him (1.9) in a recent interview, to which he responded: "So you have to put me on the bench then!
"I had not seen this statistic. If the team does better without me, I would totally understand that the coach would put me on the bench.
"It's a good challenge for me anyway. I hope it turns to the other side. I hope people will win more with me than without me."
Pogba has turned a corner — but he is clearly aware the progress cannot stop now.
Source: Livescore
Click Here To Read Our Top Stories For Today