Thibaut Courtois is a formidable presence between the sticks — but the Belgian's time at Real Madrid has not always been smooth sailing.
At 6ft 7in, he towers above his team-mates and is a giant of a goalkeeper, capable of making challenging saves appear remarkably routine.
But it is easy to forget that many Madridistas were not exactly enamoured with the former Chelsea man when he arrived at the Bernabeu in August 2018.
Ahead of the first leg of Real's Champions League semi-final with his old employers, we take a look at how the Belgian has won over sceptical supporters and pundits alike.
City divide
Courtois had, of course, spent three successful seasons with city rivals Atletico Madrid before returning to Stamford Bridge.
Representing Atleti rarely endears a player to the Bernabeu faithful and his reputation was not helped by a difficult first few months back in the Spanish capital.
The goalkeeper's performances were not always convincing during his early days with Real, raising questions over whether the £35million spent to secure his services represented good business by the club's hierarchy.
Eye-catching form
Courtois' impressive performances this season have been a far cry from those early struggles.
He was imperious in the second leg of Madrid's Champions League quarter-final against Liverpool — setting off a run of four successive clean sheets in all competitions.
In truth, Zinedine Zidane's side are often indebted to their 28-year-old goalkeeper.
It is unlikely, given their occasional shyness in front of goal this season, that they would be challenging for major honours without him.
Impenetrable
Real Madrid have failed to score in three of their last four matches but their goals against column remains unmoved.
That is not for the want of trying from the opposition. Indeed, only three goalkeepers in LaLiga this season have made more saves than Courtois (81) and the Belgian boasts the highest save percentage in the division at 81.8%.
He has been unerringly consistent, making just one error leading to a goal across the campaign.
The best in the business?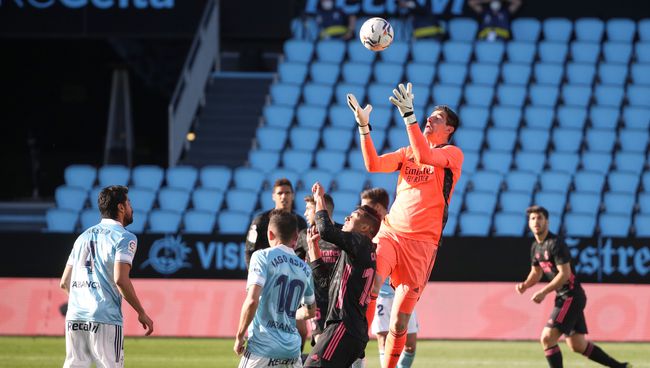 With that in mind, it is no surprise Courtois has described his recent run as "the best moment of my career".
After the goalless draw at Anfield earlier this month, he said: "I feel great. As I say, we work very hard. I want to win many titles with Real Madrid — that's the best there is and it's why I give it my all in every match.
"I don't know whether or not I'm the best. There are lots of good goalkeepers playing at the top level and I believe I am one of them."
Few would argue that Courtois is not among the goalkeeping elite, though there is still a sense his work is underappreciated in the Spanish capital.
Perhaps there is some lingering resentment over the Atletico connection, or perhaps the club's expectant fans are more interested in what happens at the other end of the pitch.
Chelsea challenge
Either way, those who have watched Courtois closely of late know the plaudits he does receive are fully deserved.
In short, underestimate him at your peril.
While Chelsea may be focused on the threat posed by Karim Benzema and Vinicius Junior, it is their former goalkeeper who could be a thorn in their side.
The most difficult task for Thomas Tuchel's team may be finding a way past Courtois.
He has not conceded a goal in over 300 minutes of football and is in the kind of form that made him such an effective No1 at Stamford Bridge.
Source: Livescore
Click Here To Read Our Top Stories For Today